CHICAGO, June 24, 2017 —The Rethinking Resource Sharing Initiative has announced that the winner of the 2017 Innovation Award is VIVA, The Virtual Library of Virginia consortium, for its whole e-book interlibrary lending initiative.  The consortium was recognized for its innovative contribution to resource sharing at the American Library Association's 2017 Annual Conference in Chicago. Carrie Cooper, Dean of University Libraries at the College of William and Mary, accepted the award on behalf of the VIVA consortium.
The Rethinking Resource Sharing Innovation Award comes with a $500 stipend and honors individuals and/or institutions for improving access to information through resource sharing in their library, consortium, state and/or country. The purpose of the award is to showcase innovation in resource sharing and to encourage other librarians and libraries to make changes in their resource sharing operations to improve information delivery to library users.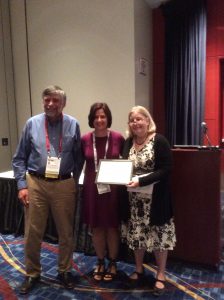 More information at https://rethinkingresourcesharing.org/innovation-award/innovation-awards-news-release/
Posted in
Uncategorized
Comments Off

on VIVA Wins 2017 Innovation Award!